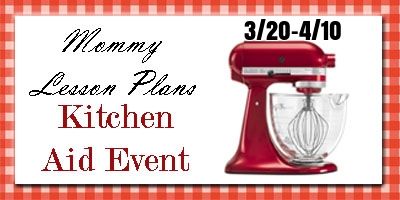 Here's what Mommy Lesson Plans has to say:
I am looking for bloggers to help me promote my Kitchen Aid Event (worth 399.99)….if you would like to help fill out the

form

. The giveaway will be Open to US Residents. You will have a free link of choice (either a Facebook or Twitter) with an announcement post.

NO Google +

I will send the HTML out on March 18th. Additional links $3. Host pages available for $12 (4 links and follow page). Co-Hosts available for $15 (5 Links, follow page and Blog's Name on Banner) All money raised will go for the cost of the giveaway.

$25 blogger referral prize!! Taking 100 bloggers!!Bloggers get a free link with announcement post or sidebar button. If you choose not to post announcement post sent $5 to mommylessonplans@mail.com. We do verify announcement posts and/or side buttons, so please do not list your information unless you've really done the post.

Additional links and Co-host spots available.
I'm heading over there to join right now! If you decide to join, please say that Rachel F. sent you! Thanks!